Subscribe via RSS
Suscribe to Marblehead News
Marblehead Fleet Forum
Did you know that the Marblehead Fleet has its own little corner on the Class Forum?
Check it out and use it
Marblehead Viper Fleet
The Marblehead Fleet is where the Viper 640 flame was kept alive, nourished and revitalized in 2005, when the Class Association was reformed during a meeting at the world famous Maddies' Sail Loft.
The Marblehead fleet hosted the Viper 640 North American Championships in 2006, 2007, 2008 and the 2012 North American Championships. We are also also hosting a stop on the Northeast Regional Circuit, during Marblehead Race Week/NOOD, in July 2013.
We are actively seeking to grow the Marblehead fleet, both in boat owners and crew, and invite anyone interested in sailing with us to come and try a Viper. Our Fleet Captain Brian Barmmer and all the Marblehead Viper sailors welcome you to come sailing with us, on the hottest boat in Marblehead Harbor!
Weekly Saturday racing takes place Memorial day through the end of September and is organized by the Marblehead Racing Association.
Contact Dan for more information on Viper sailing in Marblehead!
Written by Dan Tucker
Wednesday, 13 July 2011 08:54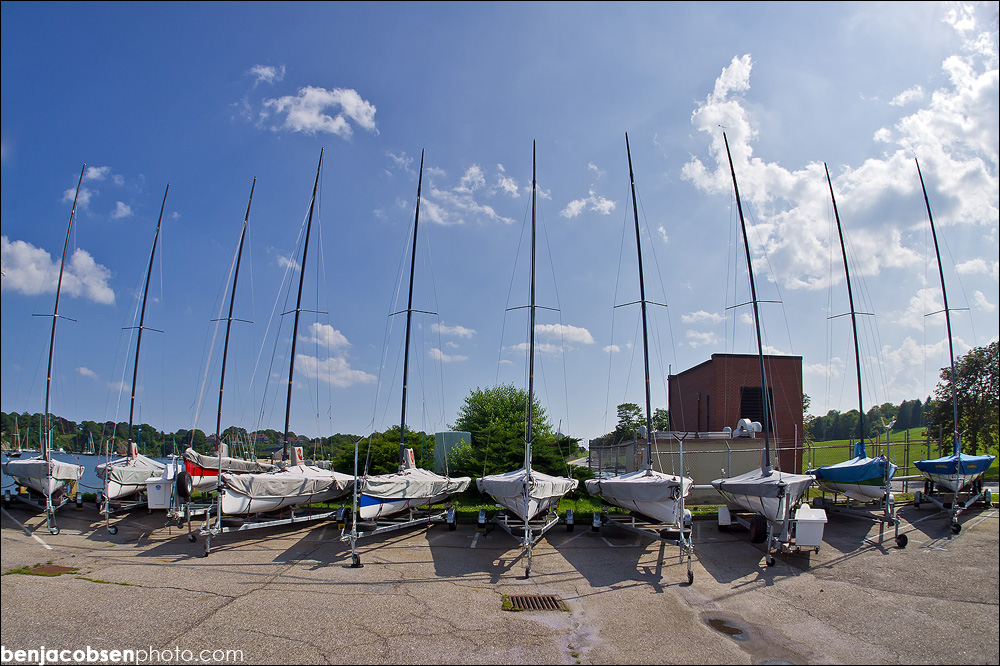 That picture by new Viper 640 owner Ben Jacobsen truly warms my heart- 3 boats to 10, seemingly in the blink of an eye. Thanks to Vinnie at Sail Newport, lining them up together makes a bit of statement, eh?
Much greater thanks to the Newport, RI true believers/early adopters Zach Freeborn and and Matt Sole, as well as Jep Peacock who saw the light as long as 3 years ago. They built it (the Newport fleet) and more have come. Even more are on the way, from the rumblings I hear. The Newport Viper fleet is going to explode over the next couple of years, I predict. Vipers will own that boat park!
This is a striking visual example of how a few true believers can make it happen. And it's happening everywhere: Washington; Rhode Island; Texas; New York; California; Connecticut; Canada, Australia, Bermuda! If you're on the fence because you don't have a local Viper fleet, don't be. Find 1-2 others who want to put fun back into sailing and who will talk about how much fun the Viper is to sail to every sailor they meet. Soon you'll have 6, 8, 12 and more fun loving new friends joining you...
The race is on for the first 20 boat local Viper fleet! Who's up for the challenge?

Written by Justin Scott

Sunday, 03 July 2011 09:32

I was back racing at Marblehead yesterday. It has been close to 12 months since I have raced with the local fleet. I can only describe it as delicious.

 

The first gun was at 12.00. Despite four classes on the line, the RC banged off four races for the Vipers. 1 mile windward/leeward twice around and back to the dock by 4.30 pm. The great thing about Marblehead is that you leave the harbor, turn right, past Marblehead Rock and you are immediately in open ocean. The race course is right on the doorstep.

Read more...

Written by Christine Pai

Thursday, 15 July 2010 12:19

Sail Newport 2010 – Viper Fleet

Team Black Mamba assembled on a hot and humid Friday afternoon for a quick practice sail, since the last regatta sailed together was back in November on Lake Norman. Sail Newport was teeming with activity, with a mix of Vipers, K6s, and J Boats launching and prepping for the regatta. The main launching area at Sail Newport always has a relaxed atmosphere, with cars and trucks parked on the lawn and trailers moving seamlessly in and out. We caught up with the current North American champs Team Jackpot (sans Brad Boston, who was sailing Etchells ACCs at the same regatta) and did some downwind practice to just north of the Newport Pell Bridge (the racing circle for the weekend). The winds were a light and variable 5 knots, unfortunately after some upwind tuning, the wind was quickly dying as we tried to head back. With no paddle and a strong adverse current, our only choice was to rock, pump, and "hand" paddle our way back… until I heard some laughing behind us. A Club Swan 42 was also headed in, but under power and friendly enough to give a tow.  We got back to Fort Adams, pulled the boat for the night and headed to dinner as we saw other Vipers just getting into Newport.

Read more...

Written by Dan Tucker

Wednesday, 04 February 2009 21:51

I just learned of a neat event that happens in Marblehead on Sunday August 16th -the Corinthian Yacht Club Kid's Regatta. In order to participate, we need a minimum of 2 boats, but here's the fun part -the driver must be anywhere under the age of 23. This is a natural for us to participate in, as young kids, high school & college sailors think we have the coolest boat once they see it!

Read more...

Written by Justin Scott

Wednesday, 07 March 2007 11:32

The Marblehead Racing Association (MRA) coordinates One Design Racing in Marblehead. Racing is scheduled every weekend for nine local classes from May to September each year. The Viper Class races on the Midway line at 12.30 pm on Saturdays.

Read more...
<<

Start

<

Prev

1

2 3 Next > End >>


Page 1 of 3